YOU ARE HERE. 3 – LEGAL GOODS
The third part of Think Tank Gallery's YOU ARE HERE. series, "Legal Goods" combines international artist Phil America's ongoing series of community engagement with LA's most notorious neighborhood for multi-generational crime. While the project does not ignore the shadier aspects of the swap meet that houses it, every aspect of the show flips MacArthur Park/convict stereotypes on their heads, humanizing the artists that take part. Simply put, it is three things:
a monthlong pop-up in the most popular swap meet hood in SoCal (we've commissioned the work of convicts who learned artisanship with the limited means provided to them in prison, and will show other artists with a record),

the restoration of a neighborhood mural that was vandalized, and
a photo essay and Instagram project documenting an at-times neglected neighborhood from a humanist perspective.
Produced and featuring convicts, exclusively, in a neighborhood known for illegal activity and immigrants, this is Think Tank Gallery's first production after getting essentially kicked out of their space for their creative expression of the laws of space use in Los Angeles. The idea of what is "legal" and what is "good" is a continually more confusing one, and this project looks to explore that. In a society that will only become more obsessed with what is "legal" over the next four years, it may very well require breaking laws in order to lead a good life. All of YOU ARE HERE. 3's artists have extensive experience with the legal system, and a coherent awareness of what day-to-day items were created from the sweat of inmates and illegal peoples. This is an opportunity for these groups to share their creativity, by way of a now-transient gallery rooted in the illegal Street Art and Graffiti scenes that could no longer legally maintain their storied venue.
It's also Think Tank Gallery's second exhibit outside of that venue after co-directing the massive Night on Broadway festival for three years, and we expect thousands of guests. While there is no price of admission, we do ask each guest to bring at least a few dollars to purchase an item from one of the local vendors, our neighbors for the month.
APRIL 1 - APRIL 30, 2017
THURS - SUN
11AM - 7PM
POP UP VENDOR BOOTH AT MACARTHUR PARK SWAP MEET
Think Tank Gallery is moving out of its storied location after 7 years serving the Downtown LA community, taking its shows on the road. A site-responsive and conceptual gallery, our first project outside of that venue takes place at the historic MacArthur Park Swap Meet. We've immersed ourselves into that community and have worked out a one-month lease in an enviable location in exchange for promoting the swap meet. We'll be showing the work of various convicts as commentary on society's current obsession with the "illegal," be it immigrant or activity, and will create a project that can humanize such an ostracized group in ways only art and photography can. The "red dot" of elitist gallery spaces will signify sales of our art and artisanal items, only in a different locale.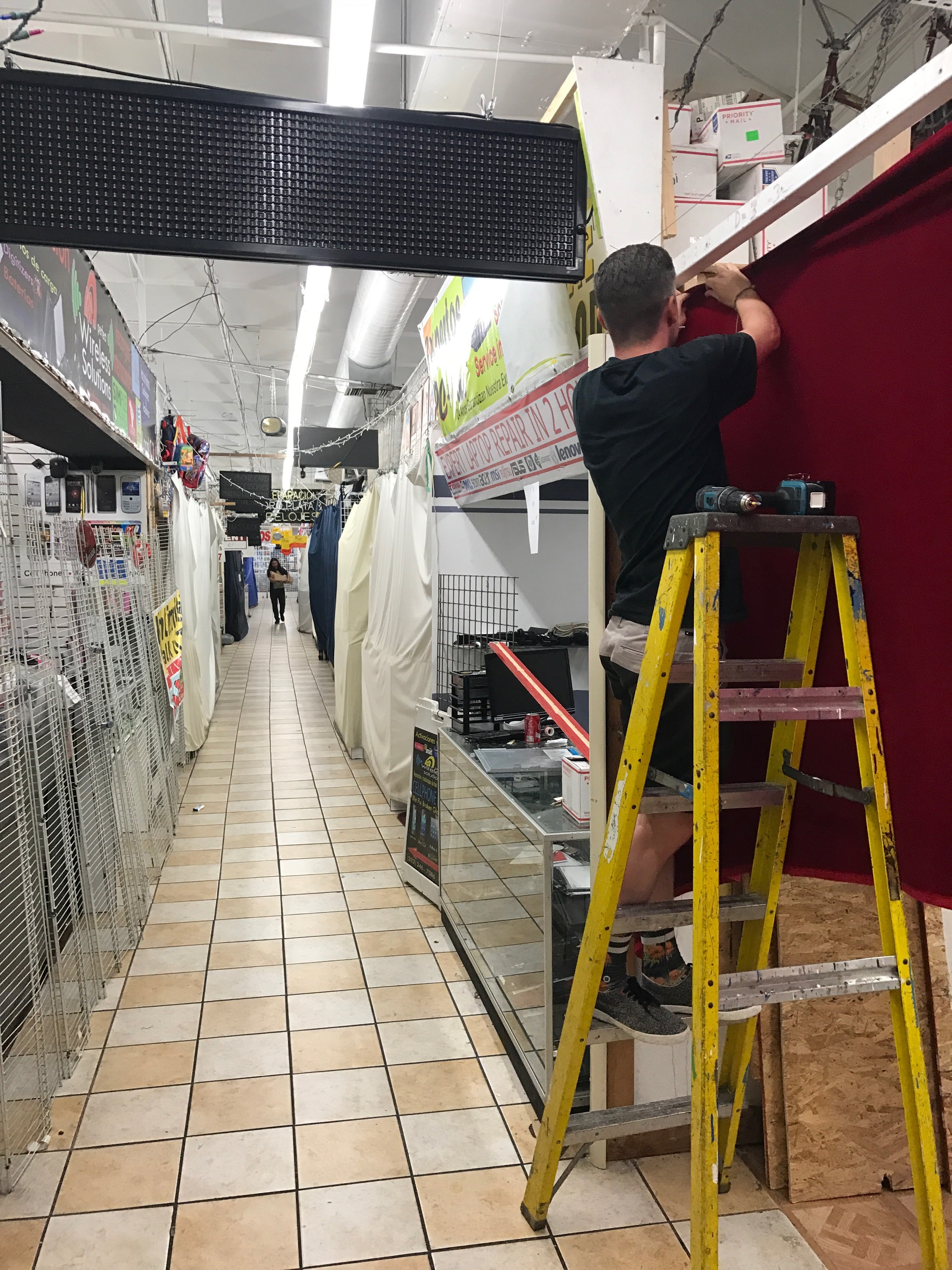 PHOTO ESSAY / ZINE
A photo essay and Instagram project documenting an at-times neglected neighborhood from a humanist perspective. You can follow our instagram @Legal_Goods for continual updates. All photos by @PhilAmerica.
THINK TANK GALLERY IS LOOKING FOR ARTISTS WITH A RECORD.
YOU ARE HERE. 3 – Legal Goods will invite three groups of artists to the most notorious neighborhood for multi-generational illegal activity and immigrants. In a society obsessed with what is legal, that benefits from the daily use of products from the hands of convicts and illegal immigrants, while those people are shunned socially, Think Tank Gallery and artist Phil America are contemplating what happens next.
What is "legal" and what is "good" are not necessarily the same thing, and that line will grow blurrier over the next four years. If you are a convict who learned an artisanal trade in prison, or the terms of your parole are that you show at a professional gallery each year, or if you've never shared with the public that you have a record, we'd love to hear your take on this idea.
Join us in expressive resiliency and artistic ingenuity. Submit your work to thinktankgallery@gmail.com with the subject line "Call for Convicts." Artists with a history of crimes against women or children will not be considered.
The Bonito Swap Meet building sits at the busiest location in all of Westlake/MacArthur Park. Between 6th and Wilshire on Alvarado, the swap meet is directly across the street from the historic park and sees thousands of shoppers each day. It is one block from the MacArthur Park Metro Red Line station, and the street is one of LA's most densely-packed. As a part of this project, the Think Tank and Phil America are restoring their mural that was recently vandalized as part of a deal worked out with the swap meet management team.
AFTER RESTORATION:
ABOUT THINK TANK GALLERY AND PHIL AMERICA
ABOUT THINK TANK GALLERY
Think Tank Gallery spent the past seven years converting their 13,500 sq. ft. warehouse into one of DTLA's most formidable names in immersive art. They joined local and international brands to build everything from reactive skate parks to functional coffee shop sculptures. Their most recent collaboration with Cirque du Soleil invited over 30,000 guests from around the world to walk through a large cake-­themed installation, highlighted by a new cultural event each night. They've enjoyed hundreds of millions of online impressions and are featured as one of Vice Magazine's Top 25 Most Instagrammable Arts Spaces in the US. They've co-directed the City of Los Angeles' Night on Broadway festival for the past three years, serving as many as 90,000 Angelenos across LA's eight historic Broadway Ave theatres.
ABOUT PHIL AMERICA
Phil America (b. 1983) is an LA-based installation artist, writer and photographer. He has worked and lived throughout the US, Europe, Asia and Africa, concentrating on individual moments of freedom while looking at relationships with class, gender and race. His recent work uses conversation as a medium or seeks ways to activate unused spaces. Phil has given 3 TED Talks and lectured at numerous universities. He has also collaborated with the United Nations, ILO, World Vision, US Department of Labor, PETA, United Nations ESCAP, the Australian Government, the City of Los Angeles, the NBA and other agencies and organizations to create art projects around the globe. Phil has also published 3 photography books and texts and photos have appeared in a number of books, newspapers and magazines around the globe.