YOU ARE HERE. 3 – LEGAL GOODS
The third part of Think Tank Gallery's YOU ARE HERE. series, "Legal Good(s)" combines international artist Phil America's ongoing series of community engagement with LA's most notorious neighborhood for multi-generational crime. While the project does not ignore the shadier aspects of the swap meet that houses it, every aspect of the show flips MacArthur Park/convict stereotypes on their head, humanizing the artists that take part. Simply put, it is four things:
a monthlong pop-up in the most popular swap meet hood in SoCal (we've commissioned the work of felons who learned artisanship with the limited means provided to them in prison, and artists whose terms of parole are exhibiting artworks with a gallery),

the restoration of a historic mural that was vandalized,
a photo essay and Instagram project documenting an at-times neglected neighborhood from a humanist perspective, and
takeaway items like a photo book, merch, and a narrative video recap.
The first two YOU ARE HERE. exhibits were sponsored by Leica Camera, and we would love to continue this partnership. This is Think Tank Gallery's second exhibit outside of its venue after co-directing the massive Night on Broadway festival for three years, and we expect thousands of guests. While there is no price of admission, we do ask each guest to bring at least a few dollars to purchase an item from one of the local vendors, our neighbors for the month.
APRIL 1 - APRIL 30, 2017
THURS - SUN
10AM - 7PM
OUR PREVIOUS PARTNERSHIPS
YOU ARE HERE. 2: SHOOT A COP
YOU ARE HERE. 2: Shoot a Cop – A Celebration of Our Boys in Blue (2013) remains to this day the most controversial show that we ever conceived. It featured 25 photographers after some dropped out due to the subject, and Leica provided background support, giving a camera to "Best in Show" winner.
Taking the excitement of our first YOU ARE HERE exhibit and flipping the concept on its head, Shoot a Cop took the "limited time and space" challenge of the breakout show and gave it a more interesting twist for the sequel – follow LAPD for a month.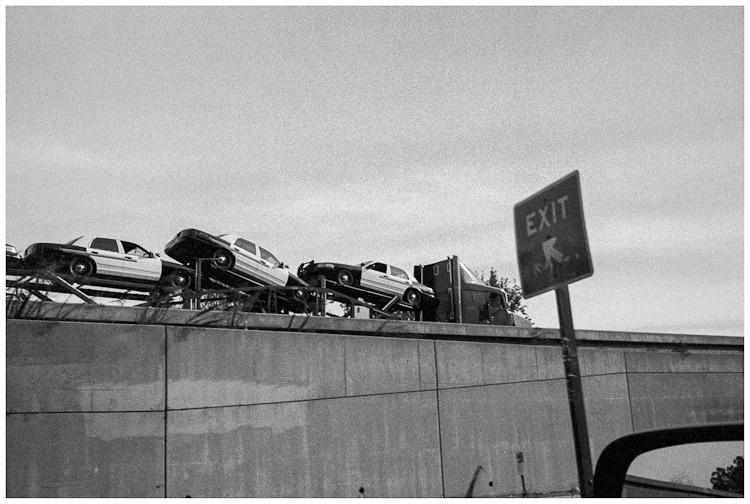 YOU ARE HERE.
YOU ARE HERE. (2011) was the Think Tank's first art exhibition in its Santee Alley location, documenting that neighborhood with the help of Eric Kim, some featured streettogs, and Leica Camera.
YOU ARE HERE was a photography experiment that tasked 35 photographers with documenting a single square city-block for ten days, and then printing and framing their work to be hung in an undisclosed location. Targeting street photographers, hundreds of artists responded to the call, but a variety of skill sets were selected so as to offer a diverse show. It set the tone for the series.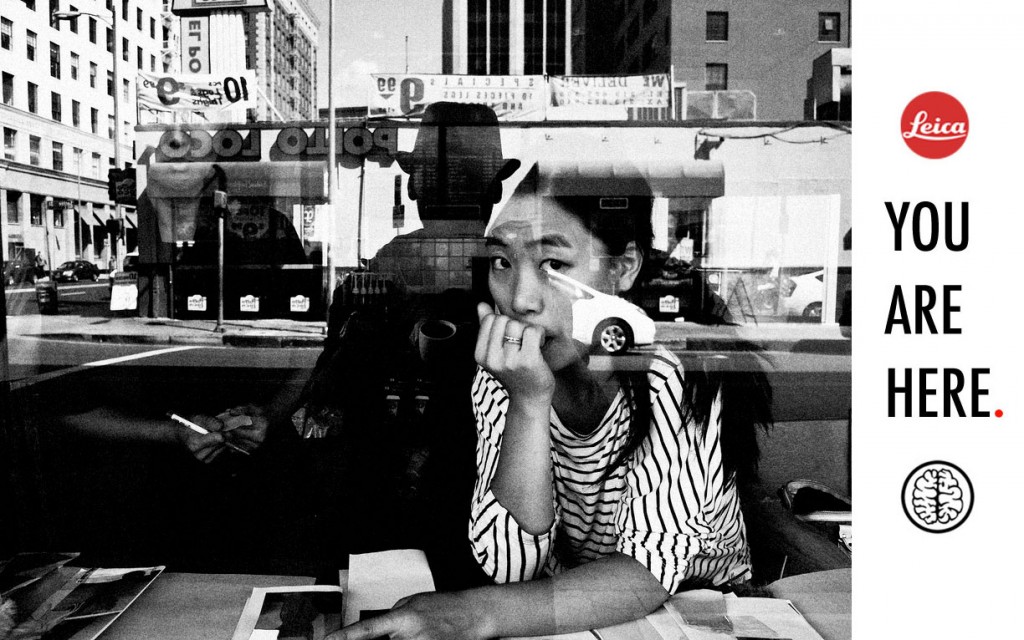 POP UP VENDOR BOOTH AT MACARTHUR PARK SWAP MEET
Think Tank Gallery is moving out of its storied location after 7 years serving the Downtown LA community, taking its shows on the road. A site-responsive and conceptual gallery, our first project outside of that venue takes place at the historic MacArthur Park Swap Meet. We've immersed ourselves into that community and have worked out a one-month lease in an enviable location in exchange for promoting the swap meet. We'll be showing the work of various convicts as commentary on society's current obsession with the "illegal," be it immigrant or activity, and will create a project that can humanize such an ostracized group in ways only art and photography can. The "red dot" of elitist gallery spaces will signify sales of our art and artisanal items, only in a different locale.
"BONITO SWAP MEET" MURAL
The Bonito Swap Meet building sits at the busiest location in all of Westlake/MacArthur Park. Between 6th and Wilshire on Alvarado, the swap meet is directly across the street from the historic park and sees thousands of shoppers each day. It is one block from the MacArthur Park Metro Red Line station, and the street is one of LA's most densely-packed. As a part of this project, the Think Tank and Phil America are restoring their mural that was recently vandalized as part of a deal worked out with the swap meet management team. They've allowed us to work sponsor imagery into the mural, and we plan to introduce a subtle pattern filling the letters with implied branding. And of course cap off the "BONITO SWAP MEET" sign with a period (i.e. a red dot).
PHIL AMERICA STREET PORTRAIT PHOTO ESSAY
Phil America is no stranger to projects like this. He has moved into villages and even slums all over the world, integrated himself into those communities, and later documented those whom he's gotten to know personally to share their stories. He's shot on Leica M8 and M9 cameras throughout his career, and has a highly-engaging Instagram presence. Much like YOU ARE HERE. 1 before it, YOU ARE HERE. 3 will take to documenting shop owners in their proudest setting, their stores, and share their stories through social media to the projects tens of thousands of followers. This project would be advertised as made possible by Leica.
PROJECT RECAP VIDEO
Think Tank Gallery simply does not create productions without working video recaps into the timeline. This is how audiences the world over can be captivated by the message, and it is how our partners can share their products with the creatives that can utilize them. Our long track record with quality videos has opened up dozens of opportunities and partnerships for us, and spread positive messages across many communities. We hope to capture this project using only a Leica Q.
ONLINE IMPACT
Social media, media outreach, and a captivating landing page for our projects have been our biggest focuses in expanding our audience. For this project in particular, a highly curated Instagram project will be the first place many guests find us, beginning with the personal stories of our neighborhood, continuing through a digital photo essay, and landing on a splash page before physically heading into the exhibit. That page will include a map with a red dot for our location, and a travel guide for public transportation using the Metro Red Line (and the red dot used for MacArthur Park stop). Leica would be incorporated at every turn, including in all outreach to our many local and national media contacts.
TO RECEIVE LEICA M10 AND LEICA Q
A photo essay will begin as an Instagram channel leading guests to the project, culminating in merchandise from the photos. All photos look to be shot on Leica's new M10, highlighting Leica's status as the pinnacle in street photography. Short street portraits and video content for the recap mentioned above will be shot exclusively on the Leica Q, presenting a fresh take on Leica's luxurious and diverse capabilities. Phil America is well-versed in Leica, with most of his most recent book being shot on the Leica M8 and M9.
A MONETARY SPONSORSHIP FOR BASE COSTS
While we are staffing the booth through volunteers as part of the conceptual fabric of the project, there are a handful of small costs Leica could cover for maximum ownership of this project. We've put a one-month lease on the swap meet vendor booth, and we are looking to commission a few felons at above-minimum wage rates to construct works of prison artisanship. We'd also like to pay the videographer to document the project so that it may survive online forever in a succinct package. Mural paint, wall-mounting materials, and a wifi hotspot for art sales are also hidden costs.

$2500 Title Sponsorship will cover the project's base costs.
TO RECEIVE LOGOS/CREATIVE BRANDING
Our audience expects a red dot when they attend a YOU ARE HERE. exhibit. The Leica branding is one of most fundamental aspects of this traveling and constantly evolving project, a reflection of Leica's dynamic brand in itself. Subtle but vibrant, well-done, and smart, YOU ARE HERE. seeks always to accomplish the class that Leica has exemplified since the early 1900s.
TO COLLABORATIVELY PUBLISH PHOTO ESSAY
One of the most important and lasting elements of this iteration of YOU ARE HERE. is the photo essay that Phil America is creating. While we created a magazine for our first exhibit with Leica, this project seeks to expand on that idea greatly. A sound and concise concept will begin on Instagram and continue through Phil's background in publishing. Phil America is well-versed in Leica, with most of his most recent book being shot on the Leica M8 and M9.
We expect these books to cost $15 per copy. A backup plan for printed t-shirts with the photos is also an option.
ABOUT THINK TANK GALLERY
Think Tank Gallery spent the past seven years converting their 13,500 sq. ft. warehouse into one of DTLA's most formidable names in immersive art. They joined local and international brands to build everything from reactive skate parks to functional coffee shop sculptures. Their most recent collaboration with Cirque du Soleil invited over 30,000 guests from around the world to walk through a large cake-­themed installation, highlighted by a new cultural event each night. They've enjoyed hundreds of millions of online impressions and are featured as one of Vice Magazine's Top 25 Most Instagrammable Arts Spaces in the US. They've co-directed the City of Los Angeles' Night on Broadway festival for the past three years, serving as many as 90,000 Angelenos across LA's eight historic Broadway Ave theatres.
ABOUT PHIL AMERICA
Phil America (b. 1983) is an LA-based installation artist, writer and photographer. He has worked and lived throughout the US, Europe, Asia and Africa, concentrating on individual moments of freedom while looking at relationships with class, gender and race. His recent work uses conversation as a medium or seeks ways to activate unused spaces. Phil has given 3 TED Talks and lectured at numerous universities. He has also collaborated with the United Nations, ILO, World Vision, US Department of Labor, PETA, United Nations ESCAP, the Australian Government, the City of Los Angeles, the NBA and other agencies and organizations to create art projects around the globe. Phil has also published 3 photography books and texts and photos have appeared in a number of books, newspapers and magazines around the globe.
JACOB PATTERSON • DIRECTOR
THINKTANKGALLERY@GMAIL.COM
916.670.3801